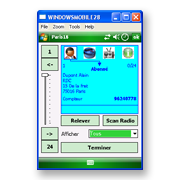 Hand Held PDA
This hand held PDA computer provides the ability to remotely read meters fitted with radio transmitters. Alternatively, the device can be used for data storage where meters are read manually and the reading is input.
The device is extremely simple to used.  It operates with just a USB connection and the installed software provides an 'activsynch' facility to automatically load and download data.

The software can be configured for automatic or manually meter reading and for specific databases.

The capability to use a memory stick offers greater flexibility over the storage, transfer and backup of data.

It is compatible with a wide range of technologies including GPRS.
Connectivity

 
 Software
 

IP protection

 
 Compatibility
 

Microsoft Excel spreadsheet or specific databases
M-BUS T1
GPS and GPRS localisation via satellite

Other features

 
 

Tough design with rubber protection to enclosure
Support for 'drive by' reading from vehicle