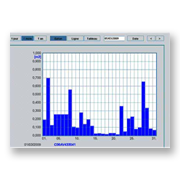 Web Hosting
Our web hosting solutions provide the opportunity to you and, potentially your final customer or subscriber, to see and analyse individual consumption patterns via a simple and easily-accessible system.
It is not necessary to install any software on your computer.
The data can be accessed through a standard interner connection at any time or location and by any authorised user.
The system is user-friendly and elements can be customised.  It also offers the capability to view the data in differing formats and to download the data into your chosen applications.
Server

 
Volume of data

Various servers in Europe

 

At least 2 years of data is stored, depending on reading intervals and volume of meters

Data security

 
Data transfer

Our servers use the latest security and data encryption features
Access is controlled by log on and password identification
Data is identified by meter number is, therefore, not personalised so there are no data protection issues
Data back-up options are available

 
Methods of data transfer are via:


SIM enabled GPRS unit
PDA upload
Data collection is remote
Data transfer is fully flexible and can be loaded at the frequency and timing specified by the customer
The data come directly on your main office, to check the alarm, the index and more to upgrate your billing software tools

Multi utility

 
Multi access

Web hosting embraces all utilities - electricity, gas and water

 

Data access is web-based so there is no limit to the number of users who can view the data online
As an option, access can be arranged for your customer to view their individual data

Presentation and design flexibility

 
 

Data is delivered in a spreadsheet form for end-user manipulation
Useage can be presented in various formats, data arrays or graphical and displayed by volume or value
'Home' pages can be customised