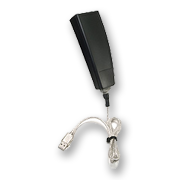 USB 3 Play Receiver
This family of USB of EN137757-4 mode T1 radio receivers offers an efficient, safe and flexible means to control and manage your installation of AMR water, gas and electricity meters without requiring access to the site.
Data is transferred directly to your PC, including alarms, meter counts and other functionality.

The device does not included an internal battery as power is delivery directly from your computer.
Connectivity

 
 Software

Full USB interface1.1
868Mhz or, on request, 434Mhz

 

USB driver and user software included
AES128 deciphering
Free software library available

IP protection

 
 Power supply
 

 Compatibility

 

Other features

Fully compatible with EN13757-4 mode

 

Dimensions  145x65x35 mm
Internal ceramic aerial
75cm USB cable with  type A  USB connector
Belt clip